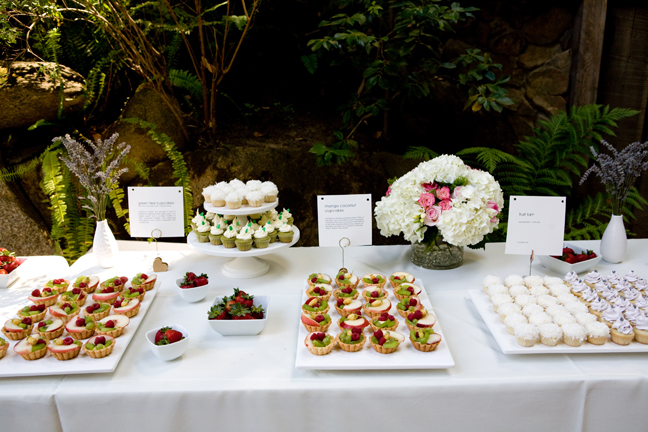 Photo by
Danielle Gillett
A few weekends ago I had the honor of making a few desserts for Michelle and Nick's wedding in the woods of Nestldown. It was one of the most beautiful, deeply moving and personal celebrations I have ever witnessed, let alone been a part of! Moreover, every dessert was deliberately chosen with meaning to the couple. My absolute favorite idea was the mango cupcake with coconut frosting - the minis were coated in fluffy domes of shredded coconut, just like her dog, Mango! Sweetest. Bride. EVER.
Menu
(post-morning-ceremony, so short and simple)
- Mango cupcakes w/ coconut frosting
- Matcha cupcakes w/ white chocolate cream cheese frosting: both the bride and groom are half Japanese, hence the matcha
- Lavender cupcakes w/ lemon buttercream: the couple met in Japan and took a trip to some lavender fields. Romantic!
- Fruit tarts: I tried to keep the colors mostly white and green with white nectarines, kiwi, gooseberries, raspberries (accent and something more familiar), and white wild strawberries. <3 Berkeley Bowl
- Almond citrus biscotti: the bride is half Italian!
- Chocolate edamame cookies: threw it in because, well, why not?